Watching a Propaganda Snowball Grow
The latest atrocity story spreading through the internet as we speak was
originated
by al-Jazeera yesterday.
Here's the gist of it:
Twenty Iraqis have been killed and 22 injured after US helicopters and heavy artillery bombed houses in al-Rummana village, north of al-Qaim city, Aljazeera reported.

Seven children, six women and three old men were among the dead,
witnesses said, while the injured included 13 children, seven women and two old men.
The story was then picked up, pretty much unchanged, by
Kavkazcenter.com
a Turkish radical Islamist website with branches in the UK. (Actual picture and unintentionally ironic caption below are from this site)
Our goal is to create a section on Islam, where all of the Believers and those interested could find what they are looking to see about Islam and about Prophet Mohammed (p.b.u.h. - short for "peace be upon him").
Now the story moves on to
Uruknet
, which repeats the story word-for-word, but adds an uncaptioned, unattributed photo of a woman's bloody legs with bloody baby legs between them. The photo did not run in the al-Jazeera story.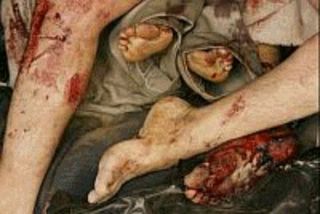 Now, on to our Italian friends who shelter
Arab Monitor
, which headlines the story as a "massacre". When Arab Monitor is done, the sentence from the al-Jazeera story:
The witnesses added that the shelling started after US forces, who landed near al-Qaim on Monday night, came under repeated attack.
becomes:
The attack was waged in retaliation for five car bombs that had hit yesterday near the US military base in Al-Qaim, Camp Gannon, and against a US military convoy, wounding 3 US soldiers.
The story now moves on to
bella ciao
, in France. The same uncaptioned, unattributed photo that appeared in the uruknet piece is repeated. Bella ciao links back to al-Jazeera.
So far, no Western mainstream media outlet has reported on this, but terrorists and their sympathizers are creating a string of links for the useful idiots of the Western loonie left to cite later on. A legend is being built, piece by piece, about US forces deliberately murdering civilians. If there is a kernel of truth in the story, it has already been so distorted by this network of propagandists that the real story will likely be obscured forever.
By the time most Westerners hear of this story (assuming it has any legs) it will already have been defined by al-Jazeera and the shadowy websites it has already traveled.
Update:
This Centcom press release may be about the same incident:
April 12, 2005
Release Number: 05-04-09


FOR IMMEDIATE RELEASE


SMUGGLING RING RAIDED NEAR SYRIAN BORDER

BAGHDAD, Iraq – Multi-national forces conducted a raid April 12 on a known foreign-fighter and weapons-smuggling ring located near the Iraqi border town of Al Qaim, five miles east of the Syrian border. The raid was the result of information gathered from intelligence and testimony from terrorists who were detained recently.

Terrorists immediately engaged Coalition forces with small arms fire and multi-purpose assault weapons. Initial reports indicate a number of foreign terrorists were killed, including at least one suicide bomber. No Coalition forces were injured in the raid.

Over the last week, two other raids in the Al Qaim area resulted in the capture of smugglers who confessed to bringing weapons, foreign fighters and money for terrorists across the Syrian border into Iraq.