Indian Land Claim Snows Gullible Environmentalists
On March 12, 2005 lawyers for the Onondaga Nation located just south of Syracuse, New York filed claim to 4,000 square miles of New York State, a huge swath of land running from the Canadian border to Pennsylvania. And the Onondagas had a unique spin to put on it. They're not interested in money or casinos, oh no, they just want the environment cleaned up. The local and regional media lapped it up. Here's what they reported: From
The New Standard:
Syracuse, New York , Mar 18 - The Onondaga Indian Nation has filed a unique, historic land rights lawsuit seeking title to approximately 4,000 square miles of their aboriginal territory in Central New York. Stretching from the Canadian border to Pennsylvania, the area includes the cities of Syracuse, Cortland, Oswego, and Binghamton, constituting the largest amount of land cited in a tribal land rights case in New York's history. But unlike typical land claims, the primary focus of the Onondagas' suit is environmental protection and recovery.
From
The Ithaca Journal:
"Our concern is for the water, the land, the air. They are not well," said Sid Hill, the tribe's spiritual leader. "It is the duty of the nation's leaders to work for a healing of this land, to protect it, and to pass it on to future generations."
No one bothered to send a photographer to check the environment of the Onondaga Reservation itself. So The Dread Pundit Bluto took his own camera on a little road trip. Here are a few snapshots. Click on the pictures for a larger view.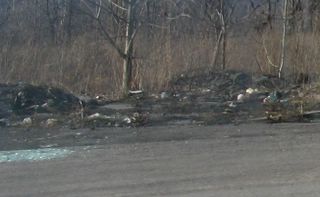 Litter at the entrance to the reservation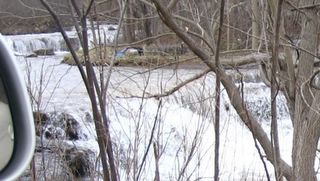 A beautiful little waterfall violated by carelessly thrown trash
A burned out mobile home mars the land. Rust indicates how long the eyesore has remained with no effort at cleanup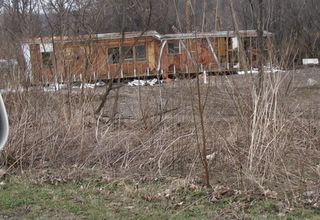 An apparently discarded modular home, one of dozens, sits rotting on the reservation
A tour through the Onondaga Nation gives no reason to think that the Onondagas have any concern for the reservation's environment whatsoever. Why would anyone think that the Onondagas are capable of doing
anything
positive for the environment of 4,000 square miles of New York State? If the Onondagas can't control the detrimental behavior of the 300 some-odd households currently under their leadership, why would anyone think that they can control the actions of hundreds of thousands in the land claim area?
And another good question: why hasn't the Syracuse Post Standard, the local newspaper, bothered to have a photographer drive five or six miles to check the reservation out?
More on the Onondagas and their land claim
here
and
here
.